Stop Abuse Now!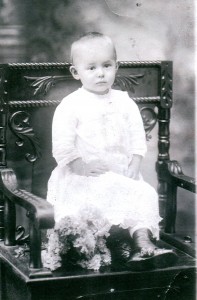 I love this picture. It is 104 years old as of August 5, 2018. This little girl lived till she was 95 years old. She is one reason why I have this website "No More Child Abuse Now." She was my mother and my best friend. She never abused any of her children and had 10 of them. She loved kids and that is why I know she would want to Stop Child Abuse Now!
Her name was Stella. Like I said she lived many years and taught me a lot in life. One thing she did teach me was to be a giver. I hope to be able to do that here on this website. This picture of her has been shared many times on the Internet and also used in different places. 
I want to help people protect their child from abuse.
I would like to help the person that is abusing their child or someone else's child to stop. 
Who Can Be An Abuser?
Everyday we hear about or read about stories of child abuse. The abuser can be a parent, a friend of the parents, relatives, neighbors, clergy, and just about anybody else you can imagine. No one is left out. You never know who might abuse your child. The best we can do as parents is to try our best to protect them. 
I will be having resources here at "No More Child Abuse Now" to help you become more aware of what might be going on in your child's life. I will not be publishing pictures here of abused children. The only children I will put on here are going to be children that are healthy, loved, and hopefully living in an abuse free home.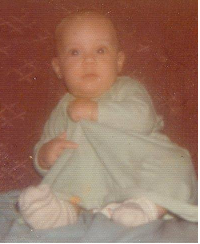 This little guy looks as if he has seen a ghost. Actually, he is looking at the camera because of the flash. I had just finished taking a picture of him and he was just mesmerized with that flash. His name is Shane and he is a now very grown up man. 
If someone else looked at this picture could they see something else though? Does he look a little frightened? As he pulled his little gown up does he seem to want some protection?
I assure you this was not the case. He is my son and was at this time a very spoiled and loved baby by very many people. Although, this was also a look that he gave when he would meet strangers or come across something he did not understand or comprehend in his young mind. He would not smile and his eyes would get big and round.
Why do I mention this? Because as a parent it is very important to pay attention to your baby and the faces they make.
Their little faces will let you know just about what is going on in their mind. I have a page here "Your Baby's Emotions" that has some information as to when your baby really starts to experience some emotions and what they may mean. Knowing your baby is one of the first steps to protecting them from child abuse. These emotions will let you know if they are uncomfortable being around someone. 
This link below will take you to our product page for many different products that will help you to watch and record what is going on in your home when you are not there:
We all need to protect our children. It is our responsibility because they can't do it for themselves. I hope you have a good experience on this website and know that as parents we are all in this together! Love your children!
Love Yah!
Mary